Valsta Konst
Municipality of Sigtuna
Interior Architecture, 2020 - ongoing
As part of Sigtuna Museum & Art, Valsta Konst is a contemporary art and culture center housed in an old 1970's public swimming facility in Märsta. It is a vast space with one large lap pool accommodating exhibitions
from

the shallow to the deep end
, and a smaller kids pool now used for workshops. The art project was started in 2019 and they have begun to renovate the space step by step while still being open and hosting events. One of the first steps include changing the doors of the old emergency exit, now entrance, and the creation of a new waiting area next to the kids pool.
In collaboration with
Hangmen AB
on behalf of the municipality of Sigtuna, we have designed custom furniture for the new entrance. The room is wedge-shaped with a lot of windows and high visibility from outside which creates an opportunity to communicate an inviting atmosphere through the glass. The space is worn, but has a lot of identity. Pine beams and tiled floors that do not affect the acoustics, only the stability of the existing furniture. Our design approach was to build a versatile space using reused materials.
waiting area / meeting space for adults and children - possibilities for self-serve coffee station, handmade ceramic mugs on display -display area -space for approximately 12 seats -table space (small)
The proposal is a development of the space in phases where the first is a varied collection of seating possibilities. A two-seat storage module allowing two people to sit separated by a book-display, one sofa with a lower backrest and a higher seat, single armchairs mobile for privacy/togetherness all in a slightly bigger scale to frame the small round flexible stools and tables. Coffee and tea is now served using two trolleys, the smaller one travels from the kitchen to the wedge-shaped area and docks neatly next to the larger one. The new interior acclimatizes, blends in and gives a cohesive overall impression.
The previous emergency exit of the public pool is now the entrance of the gallery. Converging into a narrow point, the triangular seating area is surrounded by windows framed between wooden beams.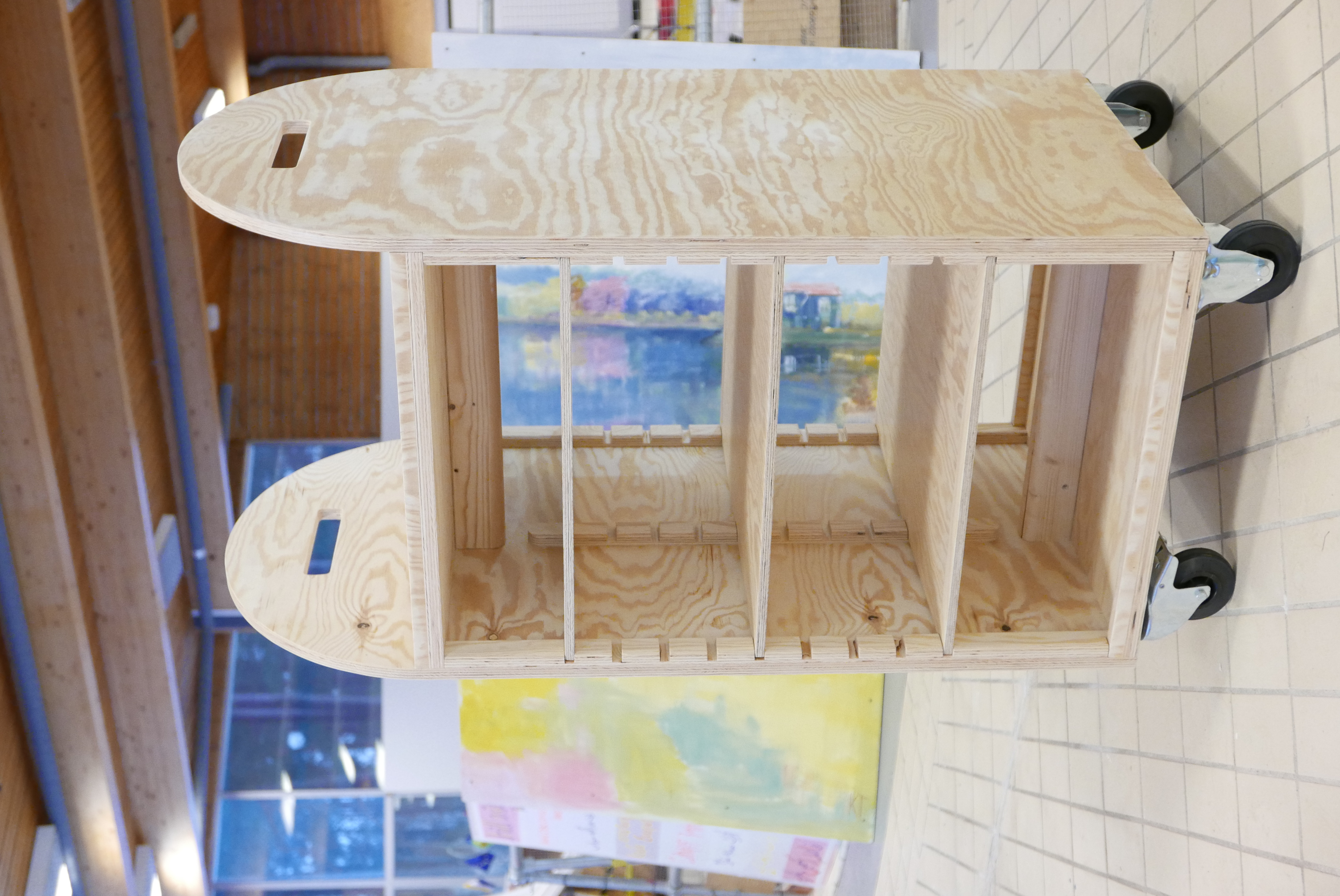 Two-seat Storage Module
Stools and table, same shape in different scales. Design by Patrik Svensson at Hangmen AB + Studio Demos.
Stools and tables, collaboration between Studio Demos + Patrik Svensson at
Hangmen AB
.